Profile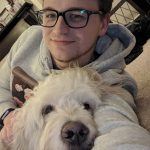 Harry Wilkinson
Curriculum Vitae
Education

I started off in Lingfield Primary School in Surrey, then went to Lingfield College for secondary school and Sixth form. From there I did my degree in chemistry at Imperial College in London, before coming to Bristol for my PhD where I am now.

Qualifications

GCSEs: 5 A*s (Chemistry, Physics, Maths, Biology, French), 4 As (Geography, Music, English Language, English Literature), and a B (History) A Levels: A* Maths, As in Chemistry and Physics

Work History

Through uni I had a bunch of part-time jobs, including working at wedding fairs, and tutoring chemistry.

Current Job

I'm studying for my PhD in Chemistry at the University of Bristol in the Bedford group.
The elements important to my work are:

The two most important elements in my work are Iron (Fe) and Sulfur (S).

Iron is one of the most abundant metal elements on earth, but it isn't used that much by industry, me and people in my group are trying to come up with new chemical processes using iron that can be used to that we don't need to use rare and expensive elements like Palladium and Platinum, which are used much more often.

Sulfur is another very common element on earth, it's known for being quite smelly, which I'm sad to say is true. I've come home from the lab a few times and my girlfriend has said she can smell it on my clothes! It's used in my work because does very interesting chemistry with iron, where it makes big clusters which can be in a lot of different interesting shapes, which then can act as catalysts for a bunch of cool reactions.

Favourite thing to do in my job: Make brand new compounds no one has made before

About Me: Hi I'm Harry! I'm a PhD student in Bristol studying inorganic chemistry.

Read more

I live in Bristol with my girlfriend where I'm studying for my PhD, before I lived here I was in London for university, but originally I'm from Surrey in South East England.

I'm a bit of a music buff, I play bass, guitar, and drums and I'm trying to learn piano (but progress is a bit slow on that one). I like to go to open mic jam nights in Bristol where I can just play music with some strangers in front of an audience. I've also done a bit of stand up comedy (but maybe the audience wishes I didn't…)

Other than that, I'm a big fan of climbing, I like to go once or twice a week when I have the time and the energy, it does make you feel quite rough the next day!

My Work: I am an inorganic chemist, meaning I work mostly with compounds of metals like iron. My job is to try and make versions of iron compounds found in the body to see if they act the same way outside of it.

Read more

I'm trying to make Iron complexes that are similar to ones that are found in enzymes in nature. A lot of these iron complexes are Iron-Sulfur Clusters. These are really big compounds that are attached to enzymes, and allow reactions to occur that wouldn't be able to otherwise.

One Iron-Sulfur Cluster in particular that I'm interested in is from an enzyme called 'Nitrogenase' that converts N2 gas in the air to ammonia which can be used as fertiliser for crops. The problem is that no one knows exactly how this compound does this reaction.

At the moment, people make ammonia by something called the Haber-Bosch process which takes up lots and lots of energy, so hopefully if we can figure out how this reaction is done in nature, we can copy how nature does it, and do it much more efficiently and so release less CO2 which causes global warming.

Most of the chemicals I work with on a day to day bases are 'air-sensitive'. That means that if any water or oxygen from the air touches them they decompose. Because of this, we have to use vacuum pumps that can take all of the air out of our glassware and then refill them with either Nitrogen or Argon gas (which aren't reactive) before we put chemicals in them. This can make some reactions that sound simple take quite a long time!

My Typical Day: I usually get into the lab at around 9 o'clock each morning and start to plan what experiments I'm going to do each day, I have lunch at around 1 then do most of my lab work in the afternoon before finishing at around 6 o'clock, sometimes later if I really need to get something done.

Read more

Once I'm in work I have to start-up all the equipment I need to do my chemistry. This usually takes around half an hour before I can properly get into the lab. Until then I tend to plan my day, what reactions I need to put on, which are finishing etc. Currently I'm supervising an undergraduate student so I'll usually talk them through what they need to do with their day and make sure they understand all the chemistry they're doing in the morning too.

As for what reactions I will be doing, it could be almost anything! That's the great thing about science, no day is the same as the last one. They could be relatively quick and be started and finished within an hour, or they could take me all day to get going, then take a week to finish!

Usually I'll stop and have lunch at around 1 o'clock, when me and the rest of the people in my lab group will usually head to the lounge downstairs to chat.

The afternoon is usually a little bit more relaxed than the morning. I can take my time, catch up on emails, read any new scientific papers that have been released, and think about what experiments I might have to do the next day, along with keeping any that I put on in the morning going.

What I'd do with the prize money: Donate it to the Outreach programme at my university.

Read more

Donate it to the Outreach programme at my university.

My Interview

How would you describe yourself in 3 words?

Happy, hard-working, curious

What or who inspired you to follow your career?

My secondary school chemistry teachers

What was your favourite subject at school?

Chemistry!

What did you want to be after you left school?

A scientist, or a musician!

Were you ever in trouble at school?

Sometimes, but I usually got away with it

If you weren't doing this job, what would you choose instead?

I would love to be a musician.

Who is your favourite singer or band?

The Strokes

What's your favourite food?

Pizza

What is the most fun thing you've done?

I went to the Maldvies a few years ago with my girlfriend and went snorkelling with wild dolphins.

If you had 3 wishes for yourself what would they be? - be honest!

A bunch of money
---
---