Profile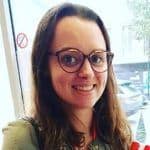 Georgia Orton
Curriculum Vitae
Education

I went to school in rural Shropshire. Afterwards I went studied Chemistry at university in Sheffield and Bordeaux (France). In my degree I got to do some research which was really fun, so I decided to do a PhD (research degree) in London. Now I work as a research scientist at the University of Nottingham.

Qualifications

GCSEs: Biology, Chemistry, Physics, Maths, English Language and Literature, Geography, French, Design and Technology, IT, RE (A* - A) and Music (B). A-Level: Biology (A), Chemistry (B), Maths (B), English (AS-B) MChem - Master's in Chemistry PhD (Chemistry)

Work History

2012 - 2015: Front of House Staff in a Theatre (Part time alongside studies) 2015 - 2019: PhD at King's College London 2019 - current: Research Scientist at University of Nottingham (PRDA)

Current Job

Research Scientist at University of Nottingham (PDRA)

Employer

The University of Nottingham
The elements important to my work are:

Platinum (Pt) – Platinum is a very expensive metal that you might have seen in jewelry. As a chemist I also use it in my lab because it is very good at helping other elements join together to form new particles. Unfortunately we don't have very much of it on earth and it is very expensive, so I would like to find a cheaper way to do this.

Iron (Fe) – We have lots of Iron on earth and its quite cheap. Nature uses Iron a lot to help other elements join together to make new particles. Inspired by nature, I am trying to find a way to use Iron to replace Platinum and make things cheaper and more sustainable.

Favourite thing to do in my job: I love making things (molecules) that noone has ever made before!

About Me: I work in a laboratory making tiny cages out of molecules (tiny particules)! They are so tiny that you need special machines to see them, but I want to put other molecules inside them to see what happens...

Read more

I live in Nottingham with a friend. I have two cats, lots of chickens, 4 ducks and two pet sheep who all live with my parents as I don't have space in my tiny house for so much wildlife!

I love doing sport, learning different languages and cooking for my family and friends. I am also dyslexic.

My Work: I work in a laboratory making tiny cage structures called MOFs out of molecules (tiny particles)! They are so tiny that you need special machines to see them. They are really cool because one teaspoon of MOF has the same surface area as a football pitch!

Read more

The cage structure of MOFs means that there is lots of space inside to do reactions. By changing the shape and size of the cage we can control which reactions happen, and therefore which things we make. Hopefully we can learn to do new reactions.

A lot of the chemicals I need to use react with oxygen in the air or set on fire as soon as they touch air. I have to use special equipment and techniques to handle these chemicals safely.

My Typical Day: I like to get to work early and start doing experiments in my lab (listening to some good music). I spend about half my day in the office and half the day in my lab. An important part of my work is reading about the work other scientists have done to see if I can get any good ideas for my own work. It is also my job to help other people working in the same lab as me, and make sure they work safely.

What I'd do with the prize money: I would like to visit primary schools in rural areas and show them how to do some experiments.

Read more

Most universities run outreach events for children/young people. This is a great oppourtunity for kids living near universities (normally in cities) to meet scientists and experience science outside of their classroom.
For kids growing up in rural areas, it is often not possible to get a whole class to an outreach event, so I would like to visit a few rural primary schools to show them how to do a few simple experiments in their own classrooms.

My Interview

How would you describe yourself in 3 words?

Curious, hyperactive... and sciency!

What or who inspired you to follow your career?

My mum - she isn't a scientist but she loves science and would always do cool experiments with us when we were kids.

What was your favourite subject at school?

Music and biology

What did you want to be after you left school?

A vet

Were you ever in trouble at school?

I was very shy at school so didn't get into much trouble except for forgetting to listen to the teacher.

If you weren't doing this job, what would you choose instead?

A doctor

Who is your favourite singer or band?

Probably Samm Henshaw at the moment

What's your favourite food?

Anything with cheese on!

What is the most fun thing you've done?

Probably when I moved to France for a year to study in french. It was challenging but great fun.

If you had 3 wishes for yourself what would they be? - be honest!

To have my cats living with me, to fix global warming, to always be happy.

Tell us a joke.

What's a cheese's favourite TV channel? The Brie Brie C!
---
---